Tue., May. 28, 2013
Alex Henry and Georgina Meet and Greet
Come join Alex Henry and Georgina in their home for a conversation with Mayoral Candidate and Ward 6 Councilmember for a conversation about his vision of a Livable and Walkable DC.
Location:
723 7th St NE
When:
6:00 PM
Ends:
8:00 PM
Add to Google Calendar
Add to iCal
Tickets/More Info
Wed., May. 29, 2013
Tommy Wells Ward 6 Listening Tour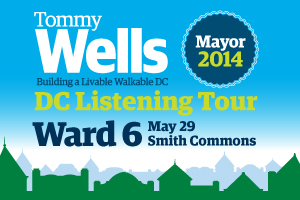 To build a livable walkable D.C., we will need work together to create a shared vision of our city's future. I am meeting with neighbors in every neighborhood and in every Ward to talk about what we want - a great city. Join me and your Ward 6 neighbors to talk about creating a more livable and walkable city for all.
Location:
Smith Commons - 1245 H St NE
When:
7:00 PM
Ends:
9:00 PM
Add to Google Calendar
Add to iCal
Tickets/More Info
Sun., Jun. 2, 2013
Grassroots Brunch | Churchkey

Churchkey is hosting this weeks GRASSROOTS BRUNCH Fundraiser! Come show your support with a $25 donation for Tommy Wells for Mayor with a Sunday afternoon Grassroots Brunch. Enjoy the tunes of TIEN in the gorgeous front area of Churchkey, overlooking 14th Street, and talk with Tommy about his campaign initiatives, what is or isn't working for you in the city, or how you can become involved.
WHEN: Sunday | June 2 | 1pm-3pm

WHERE: Churchkey | 1337 14th St NW, Washington, DC 20005

TOMMY WELLS BRUNCH SPECIAL: All donors recieve 10% off your entire bill!
---
Location:
Churchkey | 1337 14th St NW, Washington, DC 20005
When:
1:00 PM
Ends:
3:00 PM
Add to Google Calendar
Add to iCal
Tickets/More Info