Tue., May. 28, 2013
Alex Henry and Georgina Meet and Greet
Come join Alex Henry and Georgina in their home for a conversation with Mayoral Candidate and Ward 6 Councilmember for a conversation about his vision of a Livable and Walkable DC.
Location:
723 7th St NE
When:
6:00 PM
Ends:
8:00 PM
Add to Google Calendar
Add to iCal
Tickets/More Info
Wed., May. 29, 2013
Tommy Wells Ward 6 Listening Tour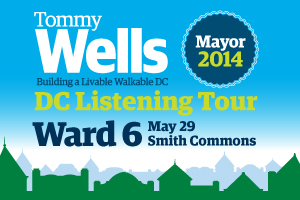 To build a livable walkable D.C., we will need work together to create a shared vision of our city's future. I am meeting with neighbors in every neighborhood and in every Ward to talk about what we want - a great city. Join me and your Ward 6 neighbors to talk about creating a more livable and walkable city for all.
Location:
Smith Commons - 1245 H St NE
When:
7:00 PM
Ends:
9:00 PM
Add to Google Calendar
Add to iCal
Tickets/More Info